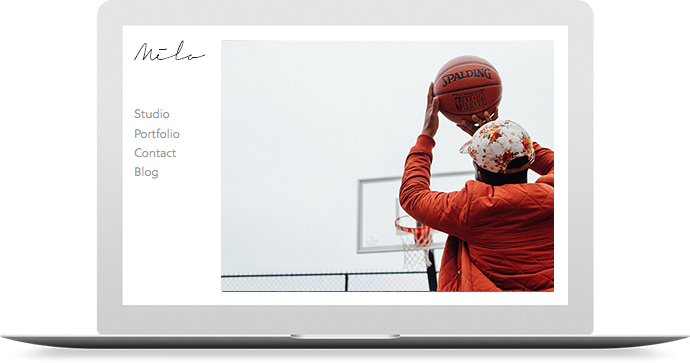 Milo

Release 4.1.2

Milo features left-aligned header design, a cascading sub-menu, thumbnail gallery view, project descriptions, eCommerce compatibility and basic style settings.
Feature Index
Thumbnail Galleries
Retina® Screen Ready
Dynamic Image Scaling
Left-Aligned Header Layout
Basic Google® Fonts Integration
Cascading Sub-Menu (2)
Social Media Icons
WooCommerce® Compatible
HiDPI Site Logo
HTML/Font Site Title
Color Scheme Management
Sidebar Widget Area
WordPress® Blogging
Image Captions
Responsive Page Layouts
Pricing
$100
Price includes access to Dorsey, Eames, Milo, and Wright themes and 12-months U.S. based support.
Client Review
"Simple, clean designs. Excellent customer support. I have had a great experience!"
— Dan Gillan
Is Minimal a one-time payment or a subscription?
Every purchase includes 12-months access to themes, theme updates, and friendly U.S. based customer care. If you are happy you may continue your service subscription for $100/year with no obligation.
How long is your contract?
Service subscriptions are 1-year at a time and are renewed on the front end with no obligation.
Can I switch themes?
You will have access to Dorsey, Eames, Milo and Wright themes at any time through our account management portal.
What happens if I cancel my service subscription?
If you cancel, you are welcome to continue using your theme for as long as you like but you will lose access to email support, theme updates and new theme releases.
Do you offer hosting?
Minimal themes run on the self-hosted version of WordPress which means you will need to register a domain and purchase hosting. See our recommended hosts.
What is your refund policy?
We offer a refund grace period within 3 days of your original purchase.
Do you provide email?
Email is a commodity best provided by your web host or 3rd party. You will receive more email accounts and storage than we could offer you.
How do I cancel my service subscription?
You may cancel service at any time through our account management portal.